Welcome to East Grinstead Angling Society Website
Shovelstrode Lake
A new water to the Society from December 2014. Situated just outside Ashurst Wood. It is known to contain carp but the full range of species and sizes will not become apparent until it is fished in 2015. The lake is owned by Shovelstrode Stud Racing Stables and there are a few extra rules for members to observe.There is night fishing at this water.
Stock
Early reports of catches include small carp, tench to about 2.5lbs, rudd and gudgeon.
.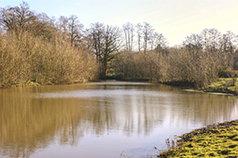 Water Rules
The lake is adjacent to the gallops and horses are exercised during the day. In addition to our normal rules no member is to walk on the gallops or to obstruct access to them. Parking is to the immediate right hand side of the access gate.
Normal Society rules apply. There is night fishing at this water. Noise must be kept to a minimum between 10:00pm and 07:00am.