Welcome to East Grinstead Angling Society Website
https://goo.gl/maps/mQ2a1JqeFHKbedpq5
Eden Brook
The Society leases a 2.5 mile stretch of Eden Brook, which is a tributary of the River Eden. Main parking is at either at Barrow Green Farm or Rushford Farm, both close to Lingfield. There is a walk of over 100yds from the most popular parking area at Barrow Green to the access point to the brook followed by access over a stile. This water is not suitable for disabled access.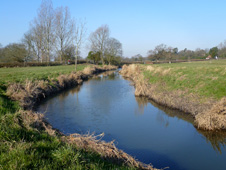 Stock
A narrow river of varying depths and deeply cut in places. It holds chub to 6lbs, roach, perch 2lbs+, bream, pike, dace, eels and recently some carp to 15lbs that have washed down from other waters. Eden Brook has produced the club record bream (7lbs 11oz), chub (6lbs 14oz) and roach (2lbs 4oz).
Water Rules
Normal Society rules and EA close season applies.
Google map link
https://goo.gl/maps/mQ2a1JqeFHKbedpq5